9 Clever Scams to Beware of Plus 8 Internet Safety Tips: Please Share This With Everyone!
How to Avoid Scams and Scammers (Fraudsters)
Don't Lose Money to These Common Scams from Criminals!
The internet has become a very dangerous place for the unsuspecting person and millions of Dollars are pocketed by cunning scam artists.
Here are some tips to avoid scams and information on how to identify them…
These criminal fraudsters, scam artists have no conscience whatsoever in taking your hard earned money and running off with it.
Even the smartest people can be caught by beautifully dressed up scams and in the past, even I have personally lost over $10000 to scam artists.
May the fleas of a 1000 camels infest these scam artists nether regions and may their fingers turn to fish hooks to scratch their itches.
May they also burn in hell for their evil dealings of robbing people of their hard earned cash, savings, and emptying people's bank accounts and maxing out credit cards of unsuspecting consumers.
Some of the biggest scam areas online are work from home business opportunities, identity theft, bank card 429 scams (many operating from African countries), and lottery or other winning scams.
Here are a few tips to avoid scams online:
Identity Theft:
Your personal information – details such as your name, address and your bank details are very important information criminals want to get their grubby paws on so you must keep this information very safe at all times.
When cleaning up your personal papers or documents to throw out it is important to shred or tear into small pieces and better still burn it and that applies to anything with personal information on it.
Online Scam Contact.
Always be very suspicious of any unsolicited emails particularly if they look like they are from your bank asking you to confirm all your personal details, your password or security numbers.
Banks do not do this but scammers still find unsuspecting consumers that fall for it because the emails look truly legitimate.
Never click on the links sent in emails claiming you have won money, have an inheritance due to you or promise you something too good to be true. Only click on links you know for websites where you have subscribed or where you are sure you can trust the person who sent them.
Don't ever reply to these unsolicited texts, emails or letters because once you do more scam emails will come in a flood because you are added to the scammer's sucker's lists so that you can be targeted in the future.
Lottery Winning Scams
People fall for these scams in droves still and fraudsters will either contact you by post or email saying you've won a cash prize in an international lottery, or Coca-Cola sweepstakes or a prize draw.
These scam artists may tell you to keep your good luck a secret and that you need to respond quickly to claim your 'winnings'.
They may ask you to send a fee for legal costs, banking fees and taxes up front to have your winnings transferred over and then you can kiss that entire money goodbye.
Investment Fraud Scams
Scammers can often email or even go as far as cold-call the senior people offering them high-yielding returns on investments. Some examples include wine, land, carbon credits, Cryptocurrencies, gold or diamonds.
These scammers are so smooth talking they often seem believable and they may have collected personal information on you meaning they may know a lot about you and thus build a 'friendly' relationship with you to draw you into their traps.
You should be extremely cautious about any deal or item that sounds too good to be true. They normally are, and there is always some catch.
Do your homework before buying any item too cheap or investing in a deal with a return so good that it sounds too good to be true.
Online Dating sites and Chat Rooms
Scammers use dating sites to exploit your emotions and then befriend you, going on a long con way to making you believe that you're in a relationship with them.
Eventually down the line they will try and solicit money from you and then disappear onto the next unsuspecting person.
Even smart and confident people can get scammed by these con artists criminals so even if you have a tint suspicion trust your instinct and even contact the police.
.
Computer Software Fraud.
It is another common scam where scammers will contact you to say there's a problem with your computer and promise to repair the fault for a small fee. They may even mention they can fix your computer remotely and when they do they will grab all your personal information while having access to your PC.
Once they can access your bank they will withdraw large amounts of money quickly. These Fraudsters often pretend to be working for Microsoft or Google or even other legitimate companies that even have corporate websites.
Remember – Computer firms or those institutions mentioned above will never make unsolicited phone calls to help you fix your computer. Microsoft and other companies will not just ask for credit card information to validate copies of Windows or offer these types of services.
Make Money Online Scams.
Everyone wants to make money online and scammers fleece millions of Dollars from people this way promising fast wealth opportunities which greedy people will fall for like a ton of bricks.
Stick to choosing recommended business opportunities at legitimate long-running Work from Home Websites
Check whether the business opportunity you want to invest in is backed by a reputable institution with a money back guarantee like Clickbank for one example.
Watch out for binary options trading scams and other related scams because there are also dozens of these out there.
Legitimate ways to make money online will NOT promise you fast wealth nor tell you there is little or NO work involved to make money online.
READ THESE WARNINGS ABOUT MMO SCAMS BELOW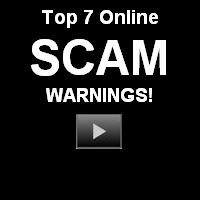 Money Exchange Scams
Many people want to send money to family and friends abroad and scam artists love these scams because for them it is easy money.
Some people also want to transfer money from one account into another in another currency and there are many services offering this for little fees with over 95% of them being scams.
Do some research and due diligence carefully because these websites are so professionally designed that they will draw you into losing your money fast!
Many people are also being scammed while trying to exchange cryptocurrencies into their country currencies …beware!
Blackmail Scams
You are being watched if you leave your webcam open and hackers will send you an email telling you they have logged something you did which you don't want anyone to know about. It can be something personal or something at work.
One common execution of this blackmail method is sent by email, where the sender transmits a message claiming that the hacker has hacked into your computer or into one of your webcams and has been operating it and recording your actions.
The sender says that a key logger/tracking system has been installed and that your webcam was used to record you doing something you may not want others to know about.
The sender provides two options – send Bitcoin to suppress or delete the material, or you can ignore it and send nothing and the result will be that this content will be posted on your social networks and /or sent to your email contacts and spread across your internet profiles.
Scammers use stolen email lists, hacked personal information as in identity theft, and other leaked user information they hacked from your computer to run this scheme across thousands of people all over the world. Watch Black Mirror on Netflix to see one of these scams in action.
Report Scams Immediately
In almost every country there are websites, the police or institutions to report scams and if you have been scammed do this immediately.
Not only do you identify the scam it also helps others from getting caught out by these clever criminal fraudsters that have no conscience.
Perhaps they will get away with their evil scams in this life but at the end of the day, they will pay because the universe and karma will give them their just desserts!
Internet Safety Tips Summarized…
Protect your Data by Making Sure You Have a Reliable Antivirus Installed.
It is not necessary to pay hundreds of Dollars for a good antivirus program, because there are some excellent free versions out there.
One the best and most used by millions of people all over the world is the AVG. Home users can use the free version which is mostly sufficient protection, and what is great is that it automatically updates itself on a regular basis while you are online. This keeps the program abreast of the new viruses that are created.
You can download the free version HERE, but if you have a business with a few terminals, rather choose the full suite. For home users, the free version protects against malicious e-mails and online viruses while you are surfing the internet.
Beware of Emails Scams and 429 Scams. 
Be careful where you submit your email address to when joining internet offers by always making sure that they are legitimate, and they offer a link to unsubscribe. Unfortunately, no matter how careful you are at some time or another you are going to get a spam email slipping through.
YOU MUST NEVER answer emails that tell you that you have won the sweepstakes, lottery, or ask for assistance to move money from an inheritance to your country.
Some of these e-mails certainly do look legitimate, even coming with contact details. Note that offers of unclaimed British Pounds, Dollars, Coca cola sweepstakes etc are all scams.
Once you answer any of these you will get spammed forever.  Some loan offers are even sent to you but often these are from loan sharks with exorbitant interest rates and heavy-handed collections. Our advice is opening up a free Gmail account with Google that automatically filters spam for you.
You can also have a yahoo account if you prefer them. Only use your personal email address for specific legitimate offers of communications, and give it only to the people you really want to have it, business associates, friends and family etc.
3. Phishing Banking Emails. 
No doubt you have been warned by your bank to avoid responding to any emails that you receive asking for your banking details to be updated.
Some of these e-mails are extremely cleverly designed even with the bank logos; mentioning that you have received a deposit into your account, a tax or IRS refund, requesting that you update your personal information, or even a debit order going off your account. There are new versions being created almost every day and some look like the real thing!
IGNORE THESE AND DO NOT CLICK ON THE LINKS IN THESE PHISHING EMAILS.
If you are not sure about the one you receive, then rather contact your bank to ask if they have sent you any emails, or if you do internet banking login on the banks' terminals if you need to check something.
If you do prefer internet banking, then make your user name and password to login extremely complex so that it is impossible to guess. Another tip is to keep your daily banking payment and transfers limit to the minimum.  You can always change these limits as needed in most banks, and then immediately change it back again after completing your payment transactions.
4. Buying Products & Services Online 
The convenience of buying products and using services online continues to grow in popularity in the United States and Canada and all over the world for that matter. Consumers realize the benefits of this, plus realize the great savings they can enjoy by getting more for their Dollars.
Fortunately, secure payment systems make it perfectly safe to buy products and use services, but once again ensure that you do so at legitimate vendors and sales portals. Online vendors offer secure 128 payment encryption systems allowing you to pay via credit card, and even EFT.  Look for the https in your browser bar for the link, and the CLOSED mini padlock bottom left on the web page when you make a purchase.
When you have completed the transaction then make a careful record of the reference number and keep a printed copy for your reference.  Your product should arrive at your delivery address within a day or week as specified by the vendor.
5. Children, Teens and Protecting them from Undesirable Content on the Internet. 
Children and young teens can come across abusive content, pornography, Satanism, and graphic images while surfing the internet. There are some excellent programs that will help avoid this from happening.
Use search engines to find a program that filters this content to keep your kids safe online. It is a good idea to check occasionally what children are looking at online. This can be done discreetly by looking at the history of their browsing. The security zone and privacy settings can also be set higher instantly and back to what you like for your own use." Go to tools, internet options' and then choose' privacy settings' to change.
6. Making Money on the Internet. 
There is a real possibility of making money using the internet, lots of money in fact if you stick to the rules.
When it comes to this niche, you will get what you pay for, and it is safer to say the more you will pay to join an internet business, the more value and support you will receive.
Free and cheap offers for online businesses hardly deliver any real income. In my experience, it is best to stay away from programs and opportunities like Data Entry, Email pays U, certain Survey programs and certain freelance writing job offers. Use common sense and realize that building an internet business takes time, effort and most importantly determination.
Choose an Opportunity Carefully & Read all the Information Thoroughly!
Fortunately, legislation in most countries now makes it illegal to put on false testimonials from people on their offers, so you can now safely look whether there are any testimonials to help you make a decision on what to join.
Every work from home program will also have an earnings disclaimer to protect both the vendor, and consumer because some people pay to join a business opportunity, do nothing, to make it work, and then blame the vendor for it not working as they thought it would.
Some of the best legit value for money home business and internet business opportunities can be found HERE.
If you are going to build an internet business, then choose a program system, or niche carefully, and FOLLOW THROUGH! Otherwise, you will become the next wannabe work from home sceptic. It may take a little trial and error to find a suitable program that suits your taste but there is enough choice available for everyone in this niche to find what you are looking for.
 7. Your Login Details and Passwords on the Internet. 
When you do internet banking, join certain programs, or do online shopping you will often have to register at these websites. we have found it a good idea to open up an Excel sheet and keep records of these logins and the websites so that when we return, we know what these login details have to be.
Once you have created the sheet, Password protect it as well when you are done, with something easy to remember.
Make a sheet for these details or alternatively keep a little notebook somewhere safe, so that you always have a copy to log into email accounts, Facebook, banking and shopping stores to refer to. Rather use unique usernames and passwords on each website, so that if one account does become compromised if your laptop or phone goes missing, it will only be that one account rather than all of them.
8. Back Up Your Computer Data Regularly! 
One of the most neglected issues people on computers that people overlook is regular back up of data.
If you own a small business or have a personal computer it is always vital to often back the information up onto hard copy CDs, DVDs, or even onto a flash drive. This should be done at least once a week or at the bare minimum once a month.
It is also sensible to create a computer restore point monthly, which is a tool your operating system already has, and one that is the least used. Most PCs now have a DVD writer or CD writer and these discs do not cost a lot of money.
Alternatively, buy USB flash drives or external hard drives and make backups regularly. Make a point of backing up your documents in clearly marked folders, and overwrite the current data with the new information each time you create a backup.
Don't lose everything in a computer crash, and wish you had thought about this issue when it is too late.  A few minutes of your time is all it takes. If you have tons of data that must be backed up which is sensitive and vital to your business,  go a step further, and use online backup systems like google cloud or others. Some internet service providers also offer this option.
PLEASE SHARE THIS ARTICLE TO HELP OTHERS